Genuine Ford OEM Parts in Modesto, CA
Few things can be as satisfying as completing a do-it-yourself project and saving money while doing it. Whether you're an auto expert or a do-it-yourself enthusiast, if you're looking to start a project on your Ford vehicle, we want to invite you to join us in our parts center here at Heritage Ford to find the genuine OEM parts that were specifically engineered for your vehicle.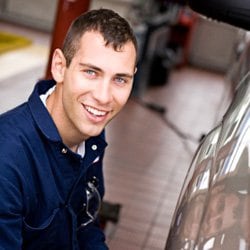 Regardless of what kind of project you're starting, we can help you find the genuine Ford parts that you need to get the job done effectively and correctly, all for an affordable price. We have a team of experts in our parts center that know precisely what parts are needed on any maintenance or repair job. Whether you're performing an oil change, filter change, brake repair, engine repair, fluid replacement, battery servicing, or anything else far and in between, we will help you find everything you're looking for and even provide you with the know-how to ensure that you get the job done correctly. For any project or issue that your vehicle is experiencing that you don't feel comfortable with attempting yourself, we welcome you to bring your vehicle into our service center where our expert Ford technicians will get to work immediately on diagnosing and fixing your vehicle, using only the genuine OEM parts that were designed, tested, and certified for your specific Ford model.
When it's time to start your next do-it-yourself project on your vehicle, we hope that you will join us here at Heritage Ford and experience for yourself the wonderful selection of genuine Ford parts that we have to help you complete any project. Our friendly and knowledgeable staff are passionate about helping our customers find everything they need and we welcome you to join us with any and all of your questions about how to get your project done correctly. Our dealership is located in Modesto, CA and we proudly serve Tracy, Manteca, Ceres, and Ripon.