Enjoy Expert Ford Servicing and Repairs at Heritage Ford in Modesto, CA
We've all been there before, you're driving your vehicle and everything is going fine, when all of a sudden you hear a noise that wasn't there before. Before long that noise turns into a shake, and a shake turns into a rumble. While having to get your vehicle serviced is never something that drivers tend to look forward to, when you bring it into our service center here at Heritage Ford in Modesto, CA,  you can expect to receive the fastest, friendliest, and most convenient servicing experience possible, and the end result will get your vehicle back in like new condition again in no time!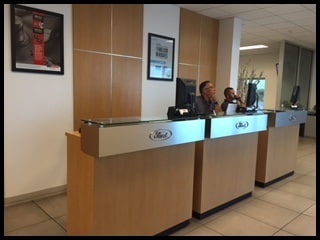 Oil Changes, Tire Rotations, Battery Replacements, and Much More at Heritage Ford
Whether you're in need of regular servicing or a full on repair, we have a team of expert Ford technicians here that are passionate about fixing and servicing Ford vehicles, regardless of model and year. We specialize in all things involved with getting your vehicle back to performing the way it was engineered to, including tire rotations, oil changes, new tire replacement, air conditioning service, engine repairs, transmission repairs, and anything else that's been ailing your Ford vehicle! While repairing your vehicle, we only use the genuine Ford parts that were designed for your specific model, so you can trust your vehicle to continue to perform in like new condition again.
Join Us In Our Service Center Today and Get Back On the Roads Around Modesto in No Time!
Regardless of what kind of maintenance your Ford vehicle is in need of, we'd like to invite you to join us in our service center here at Heritage Ford and our expert technicians will diagnose and fix the issue in the most timely fashion possible to make your servicing experience more enjoyable and convenient than ever before. Our dealership is conveniently located in Modesto, CA, and we proudly serve drivers from all over the surrounding areas of Tracy, Manteca, Ceres, and Ripon!